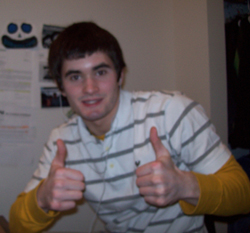 About Me, Dom Bruno
Hey everyone, this is just a small about me page, I'll put more up eventually.
Anyway, my name is Dom Bruno! I am 20 years of age. I graduated from the Art Institute of Pittsburgh, majoring in Web Design and Interactive Media.
I run a few websites full time as a job! Most of them are flash based and it's a dream come true. I really enjoy playing and making flash games, this is why I run this site.
Thanks for reading! That picture is about 2 years old so I'll try to add a new one soon.
Sites:
My biggest site, it's been around for around 4 years
Personal Portfolio, new look coming soon.
My other game site. Has a member section unlike DAB.
Another awesome hand made game site