Toast of War - Cute, arcade-style action game with a strange premise
Reviewed By: Craig Stern
Play Toast of War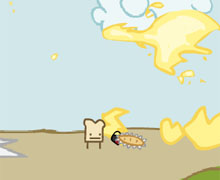 Toast of War is a cute, arcade-style action game with a strange premise. You play an old piece of toast having an extended flashback to the days when he was a lone warrior battling giant, evil sticks of butter. You must run through the countryside, head-butting butter monsters, hiding in toasters and popping out, collecting new anti-butter weaponry, and battling strange and creative bosses (also made out of butter).
The first thing you'll notice about this game is that the designers have a very good sense of humor. Many of the cut scenes are sure to get a laugh, if the weirdness of the game itself doesn't do the trick. When you first find the chainsaw, for example, you are treated to a from-behind shot of your piece of toast looking at the new weapon, with its bare naked buttocks shining in the sunlight. (You know, in case you forgot that your toast wasn't wearing any clothing.)
Humor aside, everything about Toast of War feels polished. The controls are smooth, the game engine runs without a hitch, and the gameplay is simple but fun. Toast of War is well-paced, with new items and challenges showing up at just the right times to keep things interesting. Toast of War isn't a particularly long game, but it doesn't need to be. All of the in-game characters are well animated in frame-by-frame fashion, and everything comes together seamlessly.
The bottom line: this is one of the better arcade-style fighting games I've played in Flash, and despite its weird premise, you're bound to have fun if you stick with it for a few minutes.
8/10 -- "Old-school arcade action blended with surreal humor"
More Game Reviews:
All Flash Game Reviews